Data capture with jpiano®
AEC Soluzioni recently released a MES solution called jpiano®: a tool that supports the production chain with interesting characteristics of compatibility and flexibility. This system can communicate with both traditional industrial devices and last generation smart devices. In fact, it creates a system of two-way communication with industrial automation devices (PLC, equipment boards, SCADA systems, OPC Servers …) in order to achieve a complete data stream that includes:
production data (counters, status values, waste counters, machine signals …);
process data (physical values such as pressure, temperature, speed and other data relevant to the production);
parameters issued from electronic devices (scales, calipers…).
Monitoring systems
This flow provides a continuous monitoring of the plant to acquire directly:
timing and frequency of tooling, production and waiting;
quantities produced, discarded, suspended and recovered;
ongoing activities (order quantity completed, percentage progress, time to finish…)
instantaneous velocity and possible correlation between the changes of process parameters (such as temperature, pressure and speed) and the impact on the quality of products;
frequency, duration and nature of stops and blocks.
You can also forward packets of information for:
sending commands to the machines (including those lock/unlock);
delivering information to specific locations (large displays, information boards with efficiency data, electronic billboards, led screens);
send data streams to label printers local and remote.
Thanks to advanced procedures for interfacing jpiano® can talk directly with the plant acquiring data through the use of open source hardware installed on the machine.
Protocols and communication channels
The provision of such information is guaranteed within the company adopting the most popular industrial protocols, such as:
Industrial Ethernet
Modbus
OPC Data Exchange
proprietary protocols documented
These functions are made possible thanks to the MES platform's compatibility with the most common means of communication such as:
Ethernet TCP/IP e UDP;
Seriale RS/422;
Seriale RS/232;
Seriale RS/485;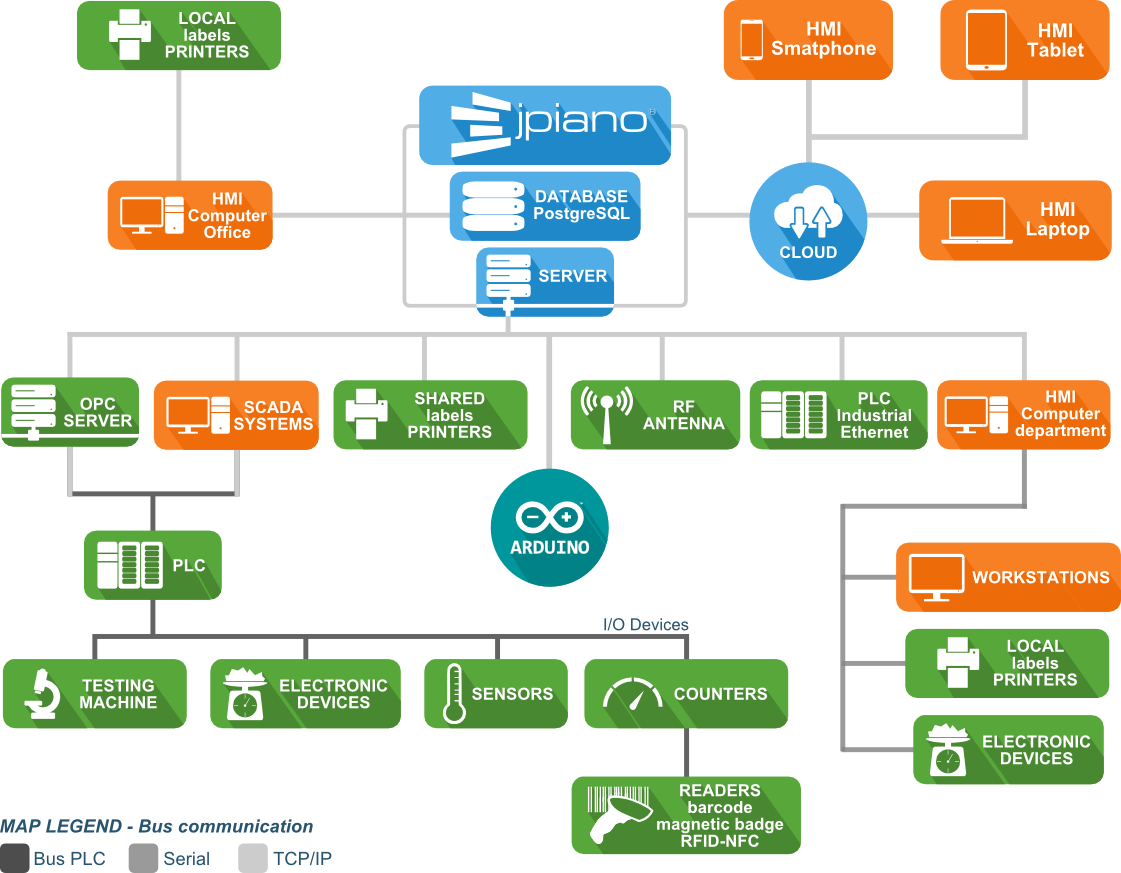 Data capture with jpiano®
ultima modifica:
2015-06-03T16:59:33+00:00
da