AEC Soluzioni Industry 4.0
A factory of ideas and MES software based in Turin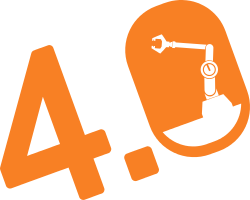 MES SOLUTIONS FOR INDUSTRY 4.0
to enhance production and process data
In addition to capturing data in real time it's essential, in order to constantly improve production processes, to measure, track, process and make easily accessible the key information to keep under control industrial costs and factory operational efficiency.
Having a data flow supervisor coming from the systems allows instantly to notificate specific critical issues to the assigned personnel and triggering possible actions for rapid resolution.
IoT SOLUTIONS
to improve operating efficiency
We design and develop custom solutions for integrating plants, products and company resources with different kind of software applications. Our solutions are compatibles with both IoT technologies, Internet of Things, and traditional technologies, highly reliable. We use networks of sensors and smart objects to link the physical world with the virtual one, the world of software applications. This allows you to monitor the production processes, from managing resources remotely, give more visibility to costs, process the acquired data, identifying and reporting downtime, prevent, where possible, critical situations and optimize plant performance.
INTEGRATION
between people and processes
Facilitating dialogue between the company departments and improving the data exchange make more flexible and leaner your production processes.These elements allow you to make faster and better decisions.
We develop integration solutions between different kind of software company applications: we connect management data with scheduling data and production data to to create a single information system data flow.
This allows you to have up to date information, reducing the probability of error and improve collaboration between different departments.
MES PLATFORM
for production control
We designed jpiano®, a software platform to support the production processes management during different phases: scheduling, production, quality, maintenance, logistics. It is guaranteed full traceability of materials and production resources, system monitoring and early warning of events that require attention. This platform is the result of twenty years of experience accumulated in the development of industrial software solutions and the high potential offered by the most modern technologies. jpiano® is particularly suitable in cases where you require a solution that can be "packaged " to the specific needs of customers.
Home
ultima modifica:
2013-08-01T16:45:33+00:00
da